There is a show out there called preachers of LA. We have to admit it is a guilty pleasure. The tag line is simply hilarious!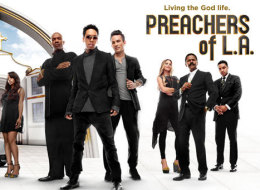 However this guilty pleasure is not sitting well with Bishop TD Jakes, who has this to say about the show.
"Now, I know you been watching that junk on TV. I want to tell you right now, not one dime of what you're sowing right now will buy my suit. I want you to know my car is paid for. I want you to know I got my house on my own. I want you to know I'm not bling-blinging. I am not shake and bake. I had money when I came to Dallas and I plan to have some when I leave.
You did not buy what I got. I had it when I came here. You know I had it when I came here. The devil is a lie! I have sold enough books and produced enough movies. I don't need your offering to pay for this little slimy suit. So I rebuke that spirit in the name of Jesus Christ."
Okay we have to agree it is nice to know a Bishop did not get his money from the offering coffers. But at the end of the day having a large congregation helps some preachers keep up with what they have. What do you say? Will you be watching? Check out the trailer: